The app shows in the 'Discover' tab videos that share the same features of TikTok: Short and vertical.
It is the fashionable app, and although it is facing a powerful enemy in the United States and a lot of imitators are coming out – the usual when an application goes viral – TikTok is still at number one and no one takes it down. Therefore, the rest try from blatantly plagiarizing her 1: 1 to trying to imitate her style to win over the audience that consumes Tiktoks. And this is precisely what Google seems to be looking for.
TikTok-like videos on Google
For those who have never used it, the Google mobile application has a section called 'Discover' at the bottom of the search engine, in which the app shows you content that may interest you based on your search history. And it is precisely in this section, the typical one that attracts you, in which Google is trying to insert TikTok-style content: short videos in vertical format.
The technology company has started testing a new format to display content, a vertical video carousel . The videos, as explained on the 9to5Google site , resemble the style of popular applications such as TikTok: in addition to being in portrait and not in landscape / Landscape mode, they last less than a minute . And also options to expand the information – in case you want to see more in the style of a thumbnail – or silence them.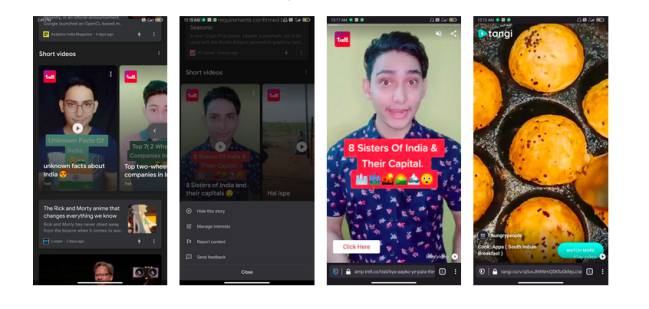 Competition Videos
But, if they are not from TikTok, where do these videos come from? Here's the irony, as Google selects them directly from apps like Trell or Tangi, rival platforms to TikTok . These short videos open in your device's default web browser.
In the case of Trell's content, it's a full AMP link with another logo in the corner and the "Click here" button to see more content. Tangier content is not AMP link, but has similar branding and UI. At the moment this test is limited to users in India, although it is clear that if it is successful we will see it in the West as well, given that the fever for TikTok is not going to decrease in these months precisely.