Do you want to make a backup of the Google mail service? We tell you how to do it in a simple way.
The importance of backups is paramount for many users. Having all your data saved is necessary to generate more space on the PC and that not only applies to the physical space of the machine, but also to the space in the cloud. This includes email services that in many cases go hand in hand with the above. This is the case with Gmail, which can deny you the reception of messages if Google Drive is full. For that reason, if you don't want to delete any, we show you how to make a Gmail backup.
Save all your emails in one place
You may have duplicate information on a hard drive in order to fall back on it if your system fails at some point. This is the reason for the backups, which can be done in physical format or in the cloud. But the second case is not the one that interests us at the moment, since it is precisely to free it. As we have said before, Gmail can close the arrival of new emails in case you have the Google Drive space at the top and if you do not want this to happen to you, it is best to make a backup copy of Gmail.
Doing it is a really simple process and you don't even have to install a program on your computer without depending on a third-party cloud service. The first thing you have to do is go to the management section of your Google account . We leave you the link so you don't waste time. After you have to click on the privacy and personalization section, enter "Manage your data and personalization".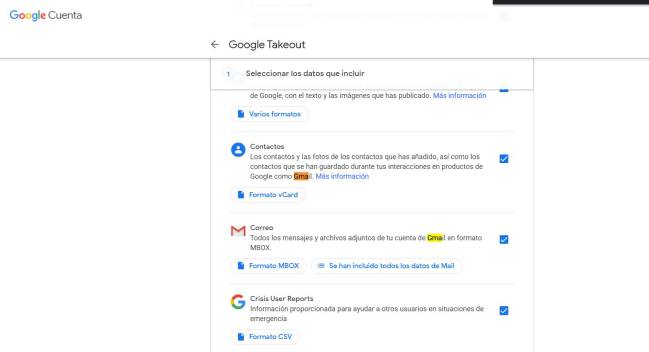 Now you will be in a window with many sections, so go down or look in the browser for the option "Download, delete or create a data plan" and here you will have to click on download data, which is what you want to do. You are very close to starting with the Gmail backup , since it is at this point where you have to find the email option and leave it as the only selected point.
Here you must click on the option 'All Mail data has been included' and choose everything you want to save. Once this is done, you only have to choose if you want to make this backup once or have it repeat several times depending on the time you want. Now comes the bad part: wait because depending on the amount of emails you have, you will wait more or less to receive the download code in another email or another cloud service.